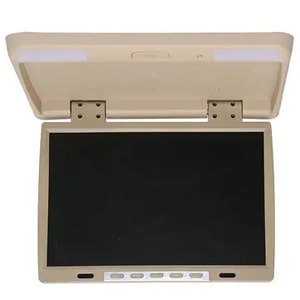 ROOF MONITOR
Specification:
Type: TFT LCD
Display size: 15.4"
Display format: 16:9
Power: 12W
Power supply: DC12V
Video: Dual video input
System: PAL/NTSC(Auto switching between the two systems)
Pixel: 1600(H)xRGBx900(w)
Brightness: 300:1
Function: Installed on the automobile ceiling.
Blue screen: Video signal disappears,with automatic appearance of blue screen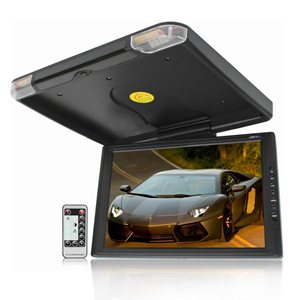 ROOF MONITOR
This 14" Pyle high-resolution TFT roof mount monitor has a
crystal-clear display to keep the back seat busy and entertained!
This screen has a 4: 3 display Ratio at a resolution of 1024 x
768 for a beautiful image. The monitor swivels up to 45 degrees
left and right, has dual-dome lighting for illumination, and is
equipped with 2 AV Inputs, so you can hook up multiple devices
without having to worry about messy wires. Tweak your MONITORS
display using the built-in controls, or use the included wireless
remote control. The built-in IR transmitter can be used with
wireless IR headphones to keep the noise low and the fun High!
Requires 12 V.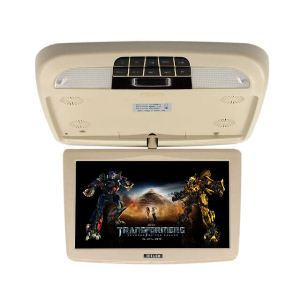 ROOF MONITOR
Specifications:
Screen size:10 inch (16:9)
Resolition:1366 (RGB) X 768 Pixel
System:250 CDM/M2
System:PAL/NTSC
Brightness:300CDM
Contrast:300:1
Power supply: Direct Current 12V+-10%Power: 10W
Power:10W
Video: Two video input
operating temperature:-20°C-70°C
Storage temperature:-30°C-80°C
special function: The display screen can be turned in four directions to adjust degree . L/R 180°U/D 90°
Color: Beige/Black