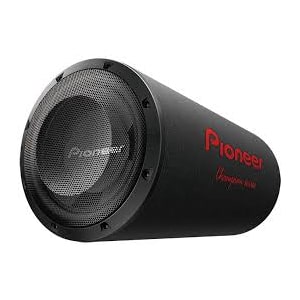 PIONEER SUBWOOFER
GRADEChampion Series
Size30 cm (12″)
Maximum Music Power1600 W
RMS500 W
Frequency Response20 Hz to 2.5 kHz (-20 dB)
Sensitivity ( 1W / 1m )85 dB
ImpedanceSingle 4Ω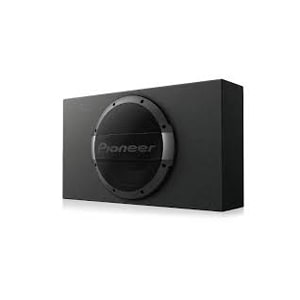 PIONEER SUBWOOFER
1,200W Max. 300W Nom. Power (Sub)
600W Max. 300W Nom. Power (Amp)
Sealed Enclosure Design
Designed for Easy Installation Under the Seat
Dimensions: 21″ x 11-3/4″ x 5-7/8″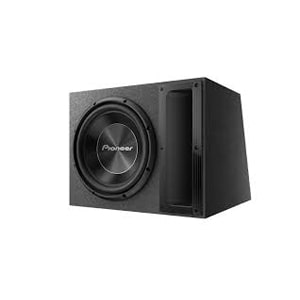 PIONEER SUBWOOFER
12" pre-loaded bass-reflex (ported) subwoofer system
Passive (non-amplified) design provides system flexibility
Glass fiber and mica interlaced Injection Molded Polypropylene (IMPP) cone construction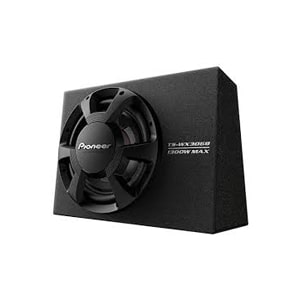 PIONEER SUBWOOFER
12" Sealed Enclosure Type Subwoofer (1300W Max)

1300W Max Power with 350W Nominal
Reinforced MICA injection-moulded resin preloaded subwoofer cone structure
Carpeted, non-slip and scratch resistant enclosure surface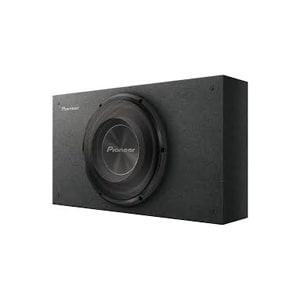 PIONEER SUBWOOFER
1,200w Max / 300w RMS
2 ohms Single Voice Coil
Rubber Surround
Fully Covered Steel Mesh Grille
Removable Feet & Cushions
Carpeted Enclosure with Embroidered Logo
Enclosure size (WxHxD): 20-7/8" W x 5-29/32" H x 11-13/16" D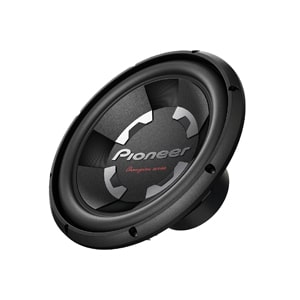 PIONEER SUBWOOFER
GRADEChampion Series
Size30 cm (12″)
Maximum Music Power1400 W
RMS400 W
Frequency Response20 Hz to 100 Hz
Sensitivity ( 1W / 1m )93 dB
ImpedanceSingle 4Ω
Mounting Depth147 mm
Cut-Out Dimensionsø281 mm
Resonance Frequency27 Hz
7 mm
Magnet Weight1,700 g
Voice Coil Diameter55 mm
Recommended Enclosure35.38 liters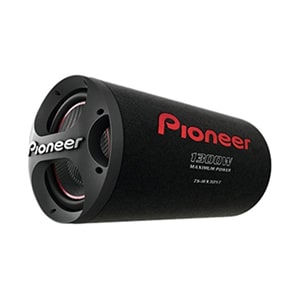 PIONEER SUBWOOFER
Maximum input power 1300 w.
Nominal input power 350 w.
Impedance 4ω.
Frequency response 20 – 125 hz.
Woofer size 30 cm.
Woofer material impp composite …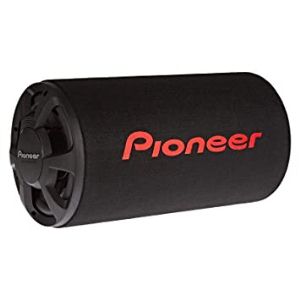 PIONEER SUBWOOFER
Maximum output power 1300 Watt
Nominal output power 350 Watt
Impedance 4Ω
Frequency response 20 – 125 Hz
Sensitivity 98 dB
Woofer size (cm) 30 cm
Woofer material IMPP cone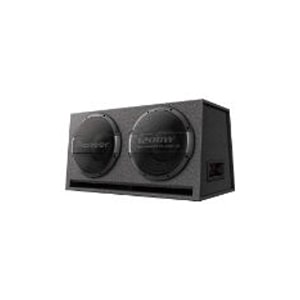 PIONEER SUBWOOFER
3000 Watts Maximum Power, 1000 Watts RMS
Optimized bass reflex port and low impedance drivers for powerful bass
Optimized CAE designed cabinets to reduce unwanted resonance for more accurate bass
Built-in High power Class-D amplifier 1200 Watts Maximum Output, 600 Watts RMS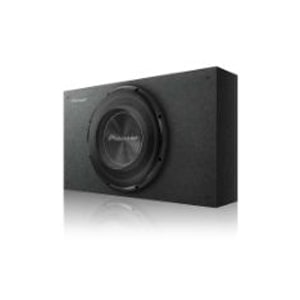 PIONEER SUBWOOFER
Upgrade the original sound system of your car with this sealed enclosed subwoofer and box package. Our A-series subwoofers compliment our A-series speakers to give you that sound upgrade solution that you have been looking for.
Constructed with thick partide board for assured strength and stability, the TS-A2000LB sealed enclosure system is well tuned to reproduce powerful rhythmical bass.
20 cm / 8″ woofer. Pioneer's patented lightweight IMPP composite seamless cone maintains reliable power handling up to 700 Watts.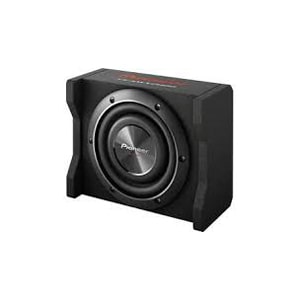 PIONEER SUBWOOFER
sealed enclosure with one 8″ subwoofer
5/8″ medium density fiberboard construction
covered with black carpet
steel mesh grille
glass fiber/mica reinforced polypropylene cone with rubber surround
impedance : 2 ohms
power handling: 250 watts RMS (700 watts peak power)
frequency response: 20-1400 Hz
sensitivity: 84 dB
dimensions: 13-3/4″W x 9-7/8″H x 5-1/8″D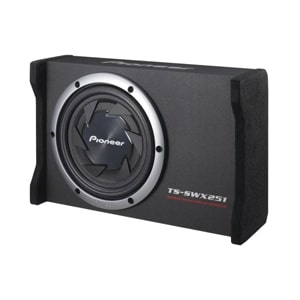 PIONEER SUBWOOFER
sealed enclosure with one 12″ TS-SW3002S4 subwoofer
5/8″ medium density fiberboard construction covered with black carpet
4-ohm impedance
power handling: 400 watts nominal (1500 watts peak power)
frequency response: 20-125 Hz
sensitivity: 93 dB
dimensions: 20-1/2″W x 13-7/8″H x 6-3/8″D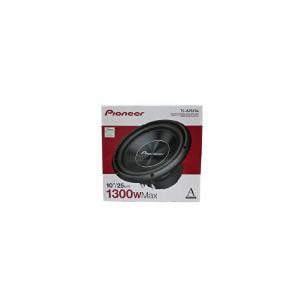 PIONEER SUBWOOFER
1300 Watts Max 10-Inch Dual 4-Ohm Voice Coil DVC Car Stereo Subwoofer
IMPP: Yes
Woofer Size: 25 cm
Type: D4 / Dual Voice Coil (DVC)
Max Power: 1300 Watt
Continuous power output: 400 W
Impedance: 4 Ω
Dual Voice Coil (DVC): Yes
Terminals: Push Type
Size: 25cm / 10″
Package Dimensions: Approx. 12 x 11 x 7 inches