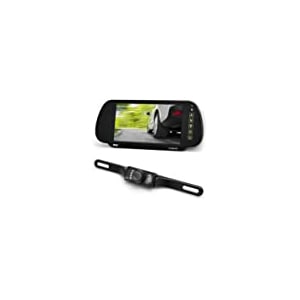 REAR VIEW MIRROR
BACKUP CAR CAMERA: A rugged backup rear view camera with true color reproduction and swivel angle It has a low lux performance and a wide viewing angle Has color image reproduction and auto white balance
LCD MONITOR SCREEN: This backup camera monitor comes with a 7″ TFT/LCD mirror monitor screen display and NTSC/PAL video system Has a built-into rearview mirror assembly with universal sized clips
LICENSE PLATE MOUNTABLE: The car backup camera included in this backup camera system is mountable The car rear view camera can be mounted to license plates with its slim bar style housing
WATERPROOF & NIGHT VISION CAM: This backup car camera for automotive vehicles is IP-68 marine grade waterproof to combat bad weather It also has night vision and IR LED lights for illumination Includes all necessary wirings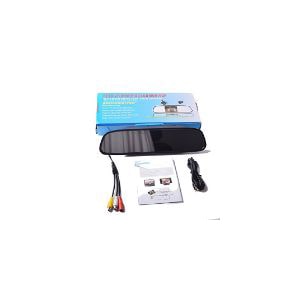 REAR VIEW MIRROR
[Universal Clip-On Mirror Monitor] Smart design 4.3 inch car monitor, directly clip-on current rear view mirror. Clip: Adjustable- 60mm ~ 90mm; Working voltage: 12V-24V
[For Reversing / Front Camera] With 2 RCA video inputs, being able to connect front and rear view camera both. The white port has higher priority which connects to backup camera(power from reversing light lamp as trigger) while the yellow one connects to the front camera.
[Easy Installation] This convenient Rearview Mirror Monitor conveniently fits over your existing rearview mirror to automatically display an accurate and clear view of everything behind your vehicle as you reverse.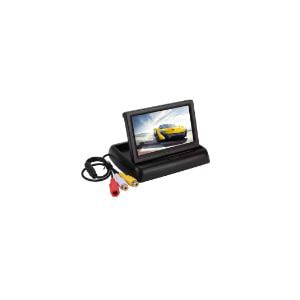 REAR VIEW MIRROR
4.3″ color TFT LCD monitor.
High-resolution picture: 480W * RGB * 272H.
Foldable design can better protect the screen against dust, dirt, bumps and scratches.
With 2 video input: white video cable connects to car rearview camera, yellow one to other video equipment.
Parking rearview priority: the monitor will start up automatically and synchronously display the video from rearview camera when you're backing your car.
Supports car DVD, VCD, camera and other video equipment.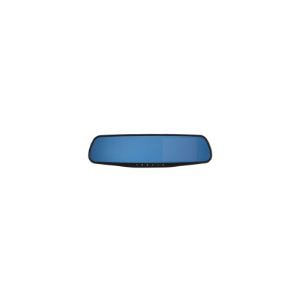 REAR VIEW MIRROR
Deliver full HD recording with 170-degree coverage for optimum viewing
Features a built-in G-sensor that helps retains important evidence
Equipped with motion detectors and TF card slot for your convenience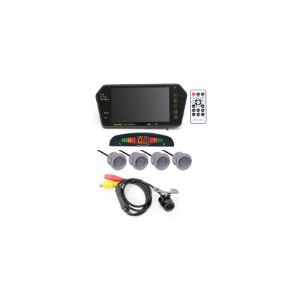 REAR VIEW MIRROR
The Car Parking Assistance Radar Sensor System with Rear View Camera designed to assist you in car parking
Easy to install and compatible with all vehicles
Directly replace your original rearview mirror
Supports Audio, Video play via SD Card and USB Flash Disk
Overview
Take one minute get your camera become a wireless camera. Also Eliminates the need to run a cable the length of the vehicle, just connect the transmitter at the camera end and the receiver at the monitor end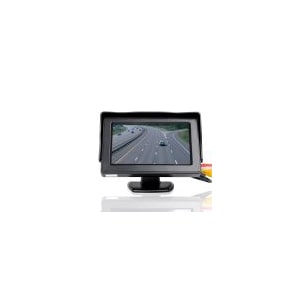 REAR VIEW MIRROR
4.3″ Color TFT LCD Car Rearview Monitor with 2 video input, works perfectly with car rearview cameras, supports Car DVD/serveillance camera/STB/satellite receiver/other video equipment.
Parking Rearview Priority: The monitor will start up automatically, and synchronously display the video from rearview camera when you're backing your car; the monitor will close itself after backing.
Screen rotatable, low power consumption,easy to install and operate.
Menu Buttons – Brightness/contrast/hue/saturation/language (Chinese/English/Spanish) adjustable.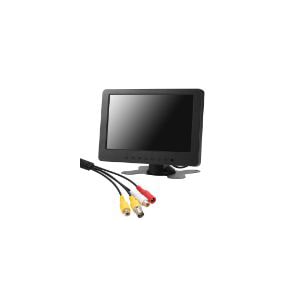 REAR VIEW MIRROR
7 inch high resolution (1024×600) TFT LCD screen, the image is clear, exquisite and colorful.
Support BNC input for professional security monitoring equipment connected, so that signal mutual interference can reduce and achieve the best signal effect. With built-in speaker, it supports audio input and output.
Support chromatic input that makes color more vivid and more realistic. Auto shut down and automatic signal standby function.
Simple fashion appearance and foldable bracket design which is light and portable. Standing bracket can be fixed to adjust for different angles.